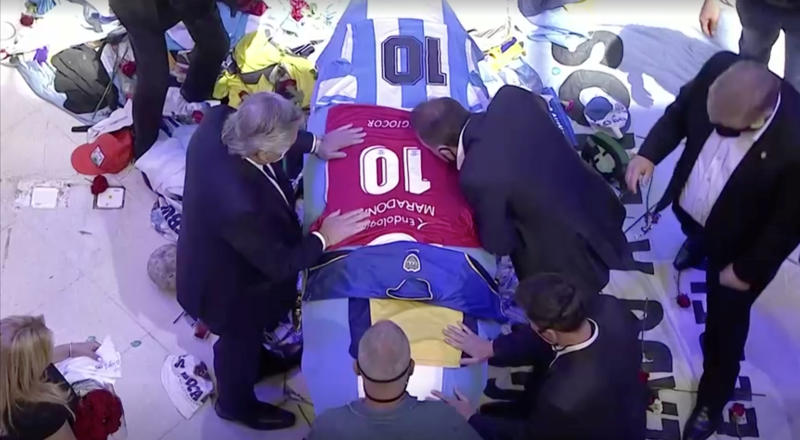 Funeral worker who took a selfie with Diego Maradona's body has asked legend's family and fans for forgiveness after social media outrage.
Social networks erupted in anger on Thursday after the photos leaked online, sparking outrage from users.
Claudio Fernandez confirmed to Radio 10 on Friday that he had lost his job at the Pinier funeral home, along with his son Ismael and Claudio Medina.
Fernández, pictured with his 18-year-old son, gave a thumbs-up gesture and smiled as he posed for a photograph next to Maradona's funeral casket on Thursday.  Medina appears in another in the same pose.
Maradona's face could be seen in the photos.
"I apologise to everyone," said Claudio Fernández.
"We were waiting before taking him [Maradona], and my son, like every kid, raised his thumb and they took the photo," Fernández explained to Radio 10.
"I know that many people have been offended, they have taken it badly, I know that it bothered them."
Mr Fernández also said he had received death threats after the photographs went viral on social media.
 "I received threats. I am from the neighbourhood, everyone knows me. They say they are going to kill me, they are going to break the car, they threaten my children and I am not that type of person," he continued.
"This photo was not taken from my phone, it was taken from another, that is the worst of all. I never thought they would publish it, that they would pass it on to a group or make it viral. I apologize to the Maradona family.''
Maradona, who led Argentina to victory in the 1986 World Cup, had battled health problems, including obesity and drug addiction throughout his life. Weeks ago he underwent head surgery for a subdural hematoma.
He died of heart failure on Wednesday and was laid to rest on Thursday amid huge fanfare and high emotion, with thousands of people crowding the streets around the capital as his body was taken to be buried.